I promised my friend Damekko Ren to collect some information about RoChu Dramas which made by China Centre TeleVision. Yes I do love CCTV, CCTV always give us big surprise. I'm not sure if you know that in 2010's new year holiday, CCTV even showed a RoChu Fanart to people all around China...I wrote the news in my blog before.
As far as I know, there are 2 RoChu Dramas showed on the CCTV. I watched one of it from beginning to end, and another just some part.
They are: 红莓花儿开 and <猎人笔记>之谜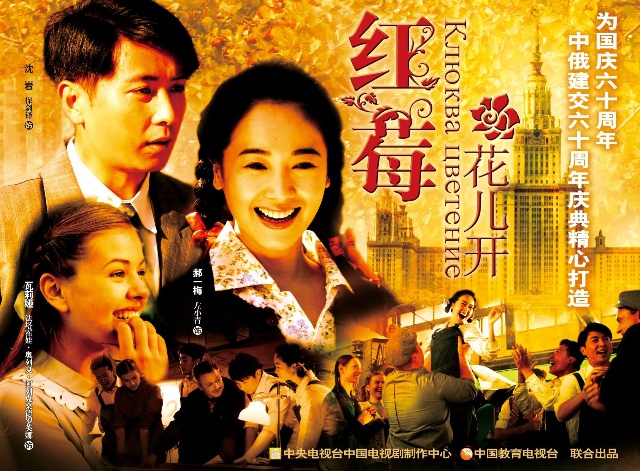 红莓花儿开
It is a drama for celebrate the 60th annivesary of relationship between Russia and China. I watched it from begin to end during the winter of 2009.
That was a touching story. Not only love but also friendship between young people of 1950s. Although they faced many difficulties during the lifetime, but love will never changed because the great memory will be tresured forever.

It is a sitcom and it has 30 episodes. I found several links of the first episode here:
http://v.youku.com/v_show/id_XMTQzMTE4OTcy.html
http://www.tudou.com/programs/view/9TEdoLGvwAg/
http://video.baidu.com/s?f=0&n=1&word=%BA%EC%DD%AE%BB%A8%B6%F9%BF%AA
Valya and Yimei in the drama☆
They are schoolmate in Moscow University...the story begins when those Chinese student come to Moscow for study. They spend the best part of their life in Russia, and everything becomes dramatic when they back to homeland and Valya also comes to China as a China-aid expert from USSR.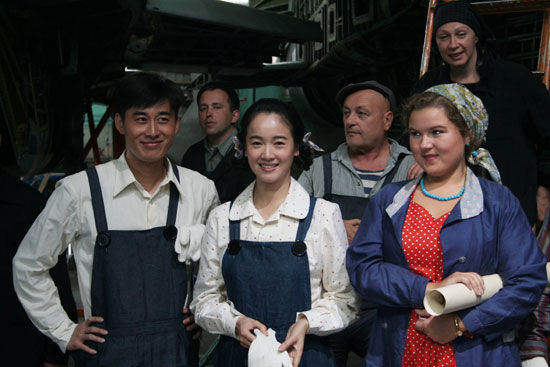 I want to say someting about the theme song of "红莓花儿开". It was soooooooo RoChu!!!
Theme song: 莫斯科有我的爱 (My love is in Moscow☆
莫斯科河畔列宁山上
At the riverside of Moscow River, on top of the Lenin Mountain
美丽校园令人神往
There is a beautiful campus which is so attractive
我们携手并肩
We are hand in hand and shoulder to shoulder
追求心中理想
Chasing after the ideal in our heart
白桦树下林荫道旁
Under the white birch tree, next to the small road
青春岁月怎能遗忘
We can't forget the time when we were young
我们风华正茂
We are in our golden ages
共度美好时光
Spend happy time together
啊莫斯科 有我的爱
Ah there is my love in Moscow
你永远在我心上
You will forever in my heart
啊莫斯科 有我的爱
Ah my love is in Moscow
你永远 在我心上
You stayed in my heart forever
_________________________________________________________________________________________
Bonus Track:
OTZ. Actually I don't know what they are doing...maybe that's the leisure-time activities in the drama team? (lol)
_________________________________________________________________________________________
Another RoChu drama-<猎人笔记>之谜 (The mystery of <Записки охотника> )
I just know some part of story in it...it was a drama which tells a story between policeman from China and Russia. They are trying to solve the case together. The bright spot in this drama is Chinese Kungfu.
Actually I think the Kungfu in that drama is so exaggerate. Although I just know a little about Chinese Kungfu...but...but...people can't fly in real life=_=, even if you are in the park of Moscow...Orz
_________________________________________________________________________________________
It is said that another RoChu drama "a lovestory between two countries lasted more than 50 years"--MY NATASHA is busy making now. I'll happy waiting for it! XD
Tomorrow is our National Day. Although I have no holiday because I'm a senior 3...TwT
Happy 61th birthday for my motherland. the P.R.China. I love you forever
@темы: Diary