Coming back from Beijing, I finished my first battle last weekend. Everything goes extremely well, I suppose so.XD
The examination was not such difficult as I thought before. Maths was quite easy, though I didn't get enough time to check my answers. The topic of English essay was "My Role Model". And I wrote Caoying(草婴 ), who is a wonderful Russian translator. I do respect him.
When I was waiting outside the interview room, I felt a little bit nervous. However, by the time I entered the room, I was totally relaxed. The topic was "Describe a thing which impressed you the most". I was chosen to be the first person to give the English impromptu speech in my group which consisted of 8 students. Well...I said something related to Bunin and Turgenev, because it is Russian Literature that impressed me the most. It's a miracle.
As my aim is to get admitted to the Russian department of UIBE, I also explained my career goal to the professor who interviewed me. In my opinion, a good Russian translator is not only the person who can translate Russian into Chinese or Chinese into Russian, but also the one who treats Russian language as his or her beloved sweetheart.
After the speech, here comes free debate. The topic was "Euthanasia", and we've been divided into two sides randomly. I was in the pro side. We made a list included every team member's idea. Although we didn't even know others' names before the interview, we become strong alliance during the debate.
To tell the truth, I did enjoy the 50-minute interview. It was so interesting, especially the part of free debate. I just love to cooperate with other people, no matter we're strangers or old friends.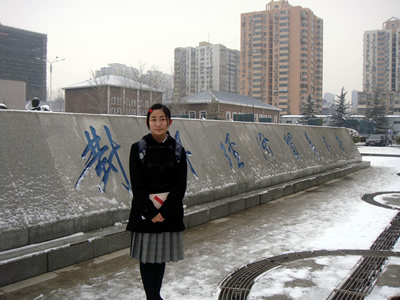 <- Before entering the interview room, I took this photo at the school gate...hope I can return back at the very beginning of next semester! XD
* * * * * * * * * * * * * * * * * * * * * * * * * * * * * * * * * * * * * * * *
Here are some photos taken in Beijing. Thanks to the ticket of Moscow Metro, it brings me great luck.
I've never seen the snow of north...as a matter of fact, our snow in south is always snow with water and ice TwT. By the time I opened the door in the morning of the examination day, it was snowy! Words can't express my feelings when I saw the white outside...snow was just...adorable.><
At the Millitary Museum.
The snow of Beijing looks like white sugar. XD
Outside the Beijing Exhibition Center. Yes I...I went to LaoMo again...to enjoy the "Kol-Kol Feast".XD
By the way, I went to Yabao road before the examination day. It's said that the ELEPHANT restaurant of Yabao road serves great Russian food. That's true, ELEPHANT is better than LaoMo...although LaoMo has longer history--it was opened in 1954.
@темы: Diary